For most of us, the first time we swung our leg over a motorcycle it was because we grew up around family or friends riding and managed to find the guts to try it. Once you've experienced the freedom and joy that riding can bring, it's easy to get hooked. Hopping on two wheels - on or off-road - can quickly become a defining aspect of your life and an experience you cherish every time you have the opportunity.
With a growing number of riders putting their time and passion into vintage restorations and turning 'old into new,' the story behind each bike is often appreciated as much as the beauty of the machine. Mike is one of those riders and we wanted to highlight the story of a man and his own machine.
1970's - The Beginning of a Lifelong Motorcycle Passion
Around the age of nine, Mike was first introduced to riding by his older brother Brian. Both began riding mini dirt bikes and he later bought a new RM80 from a local dealer. After a few years of riding, he would eventually set the RM80 aside and move on to a pre-owned 1979 Maico 440 that he found with the help of a family friend.
Back in 1979, Maico's were one of the premier racing motorcycles available and this particular bike had belonged to a professional rider who ran it in several races across the nation. While riding continued to be a go-to hobby, Mike would eventually start a family in the 80's and decided it was time to sell the Maico for the cash.
Having grown up around motorcycles and possessing innate mechanical skills, Mike continued to work on and fix motorcycles and cars, as well as other custom project builds that friends and family brought to him. And while he continued to ride, it typically wasn't on the dirt. By the late 90's he had picked up a new 1998 Harley Softail Custom that he still rides and enjoys today.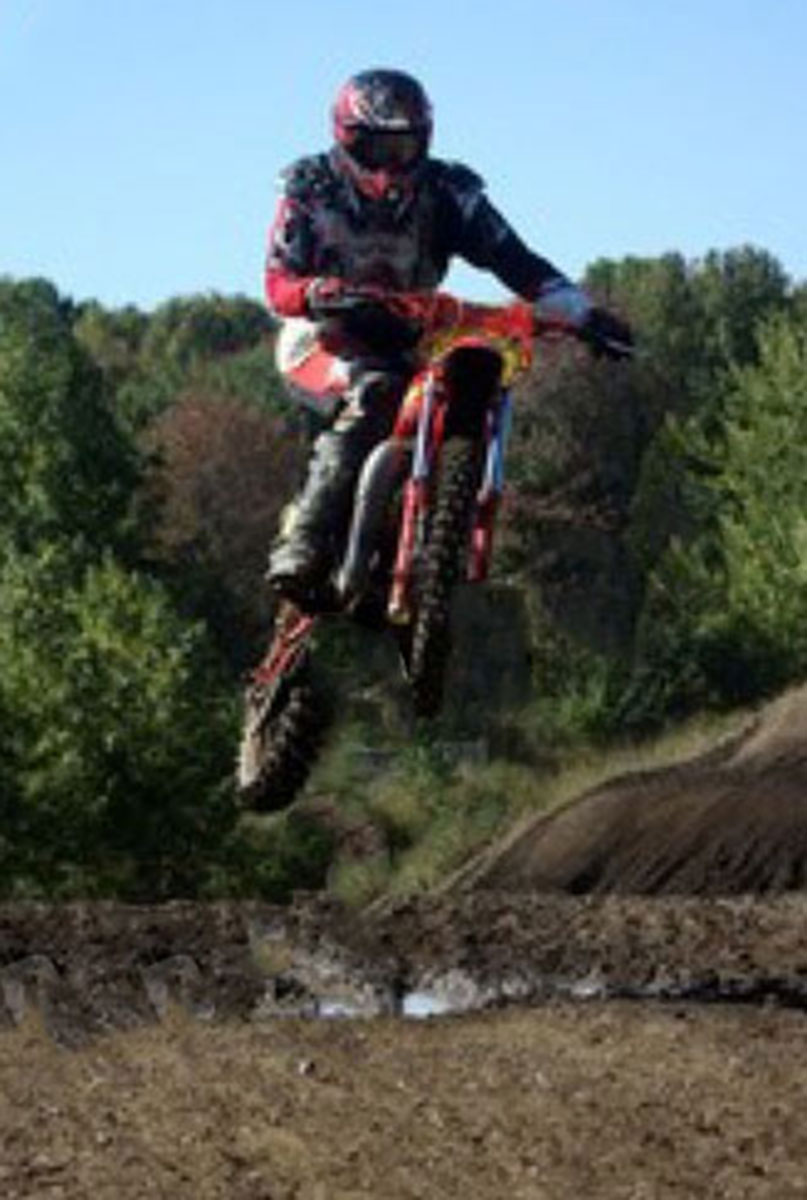 Back to the Track
Mike's absence from the track would eventually come to an end, however. With friends and family hitting the dirt again by 2013, he picked up a new 2013 KX450. Shortly after, he heard from a childhood friend that knew the whereabouts of his old 1979 Maico. He was told the bike was falling apart due to lack of maintenance and care since it was left sitting outside by a barn, basically abandoned. Mike decided he was up for the challenge and decided to add the '79 Maico to his two-wheel collection. He recalls "the engine was full of water and a squirrel had basically made a home and was living in the filter box. The bike was a complete restore."
The project would be a sentimental restore, and putting it back together just to hear it run again made it all worthwhile. After almost two years and thousands of dollars, the 1979 Maico has been restored back to its original mint condition. The bike is not just a showpiece either as Mike enjoys putting it through its paces on the track, feeling that same adrenaline rush he did as a teenager. While at the track, older riders are usually drawn over to it admiring the attention to detail in his restoration and striking up conversation, recalling the Maico's heyday on the track.
Since the completion of the '79 Maico, Mike seems to have found a passion for vintage rides and has recently finished his second Maico restoration. About six months ago, he happened to stumble upon a 1978 Maico that was for sale in the local area. With little hesitation, round two began. This particular bike was impressive due to the fact that just about everything on it was original and in relatively good condition. With a basic tune-up and a few necessary replacement pieces it now runs as good as new.
Now that the '78 Maico is complete he hopes to find someone who will appreciate it and enjoy it as much as he does. When asked about selling the 1979 Maico, Mike is adamant, "It's not for sale." He's hanging on to this one for good with plans to keep it in the family while enjoying a piece of motorcycle history he proudly brought back to life.
Recent Posts
San Diego Customs and Saddlemen teamed up to bring riders a similar style seat to the ever-popular S …

We have had a lot of requests for Leather Pro's saddlebags – and for good reason. These bags are leg …

Flo Motorsports is a well recognized name in the dirt bike and motocross world. Their high qualit …