New for June 2017 Icon has just released a new graphic for the Alliance GT helmet. They dubbed it the Alliance GT Horror, currently available in either a Red or Blue graphic. The Alliance GT Horror helmet pulls in the fiery-eyed demon from the Original Alliance Nikova Helmet which was released a few years ago. Icon set the stage with the Nikova 2 helmet and now the Horror is loose to avenge with the fallen angel. The Horror boasts a vengeful and terroristic demon, looking to bring about mischief in the night.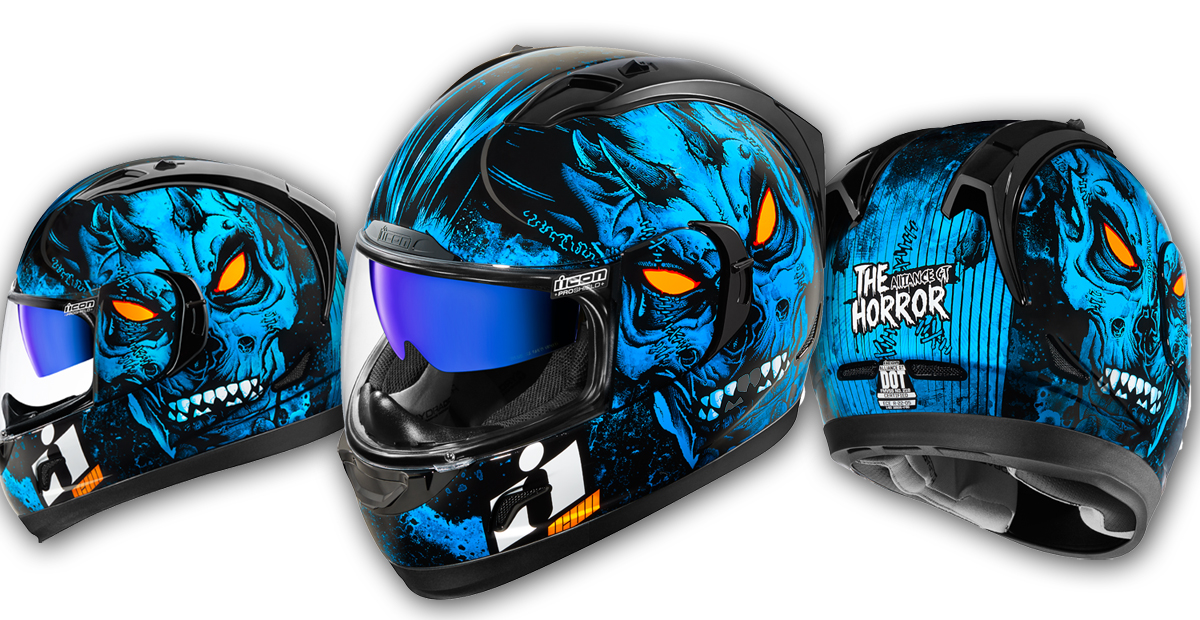 Staying true to the Alliance GT helmet you will find it features an intermediate oval, offering a comfortable fit and is available in sizes XS-3XL. It ships with a clear Prolock shield and both the blue and red graphic include matching tinted drop down shields which we thought was a cool extra.
Coming in at $225 for either color, the Alliance GT helmet features an injection molded polycarbonate shell, fully removable & washable Hydradry liner plus multiple vents and exhaust ports for keeping you cool while riding. The Alliance GT is also DOT and ECE approved. All in this is one wicked helmet that we think is a nice addition to the Icon terror line up.