So often overlooked, your motorcycle grips can have a big impact on both the style and riding experience you have with your bike. For a low cost, it's easy to add a little personality while making for a better, more comfortable ride on your motorcycle.

The grips you choose depend on the type of bike, your personal style, and of course your budget. What's important to you? Do you cruise long distance, ride the dirt, or simply stay in town and commute locally? Do you need well-cushioned grips to offset heavy vibration or is style and aesthetics your main focus? These are all important factors to consider when making your selection.
Generally, Sport and MX bike grips lean towards function and simplicity, while cruiser styles can include an almost endless range of detail - from aluminum, rubber or foam construction to unique graphics and ergonomic design for improved comfort on the long rides.
Lowbrow Customs, Kuryakyn, RSD, Biltwell, and Arlen Ness are just a handful of the manufacturers that produce aftermarket grips. Navigating through the world of motorcycle grips can be confusing, so we'll help simplify things. Grips come in two standard sizes to choose from, either 1" or 7/8". So when you're looking to replace you grips, measure your handlebar diameter and match the grips to the size needed. As a general rule, 7/8" diameter grips typically accompany street/metric bikes, while 1" typically fit Harley/Cruiser applications.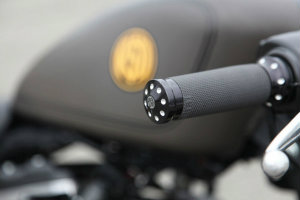 Depending on the bike, the left grip is usually an easy swap or it may require the use of some grip glue, while the right side will require the use of a throttle tube to go along with the grip. Depending on the style of the grip, some manufacturers now offer a built in throttle tube, so you wouldn't have to worry about getting one separately. If you do need to purchase a throttle tube you can use anything from the budget friendly tube from Drag Specialties to the more up-scale tube from Biltwell Inc.
When you find the style of grips you like and you are ready to buy, be sure to pay attention to the year, make and model of your bike. This will be the difference between getting the right or wrong set of grips for your bike. For most street bikes this is especially important compared to the Harley crowd which generally only has to figure out if they are using a Single Cable (most early Harley models until ~1982), Dual Cable (1982-2015) or Throttle by Wire Setup (2008-2015 Touring models).
Dual-Cable models would include;
1982-2015 Harley Sportster
1982-2015 Harley Dyna
1982-2015 Harley Softail (except FLSTSE2/3, FLSTNSE, and FXSBSE)
Harley V-Rod Models
1982-2007 Harley Touring models (Street Glide, Road Glide, Road King, Electra Glide)
Throttle-by-Wire models include;
2008-Later Touring (Street Glide, Road Glide, Road King, Electra Glide)
2008-Later Trikes, FLSTSE2/3, FXSBSE and FLSTNSE models
Whether you decide to keep it simple and go with Biltwell's Kung Fu Grips or trick out your bike with high-end Performance Machine Contour Grips, be sure to make the best decision for you and your bike since there are so many options available. No matter your choice, grips are typically a quick and painless install, and are a great way to instantly add a fresh look as well as some added comfort.
Recent Posts
Harley just released their new models for 2022 and we think they made some nice changes and went …

We just wrapped up a sick Street Glide build, upgraded with a 128" S&S Big Bore kit, Trask Swingarm, …

When you have a brand new stock 2020 Road Glide roll into the shop with less than 20 miles on it - y …