We recently had a 1985 FXR roll through the shop for a few upgrades. Scroll through to see this ride go from a basic ripper to an upgraded bad ass machine.
A local friend brought the bike in and asked us to do some upgrades. He wanted a reliable ride that could still rip. Here's what the bike looked like when he initially picked it up. It had a few newer pieces added to it including a Bassani Road Rage 3 exhaust, a set of Legend 14" Revo shocks. It also had and some previous head work to the motor but was running a little rough.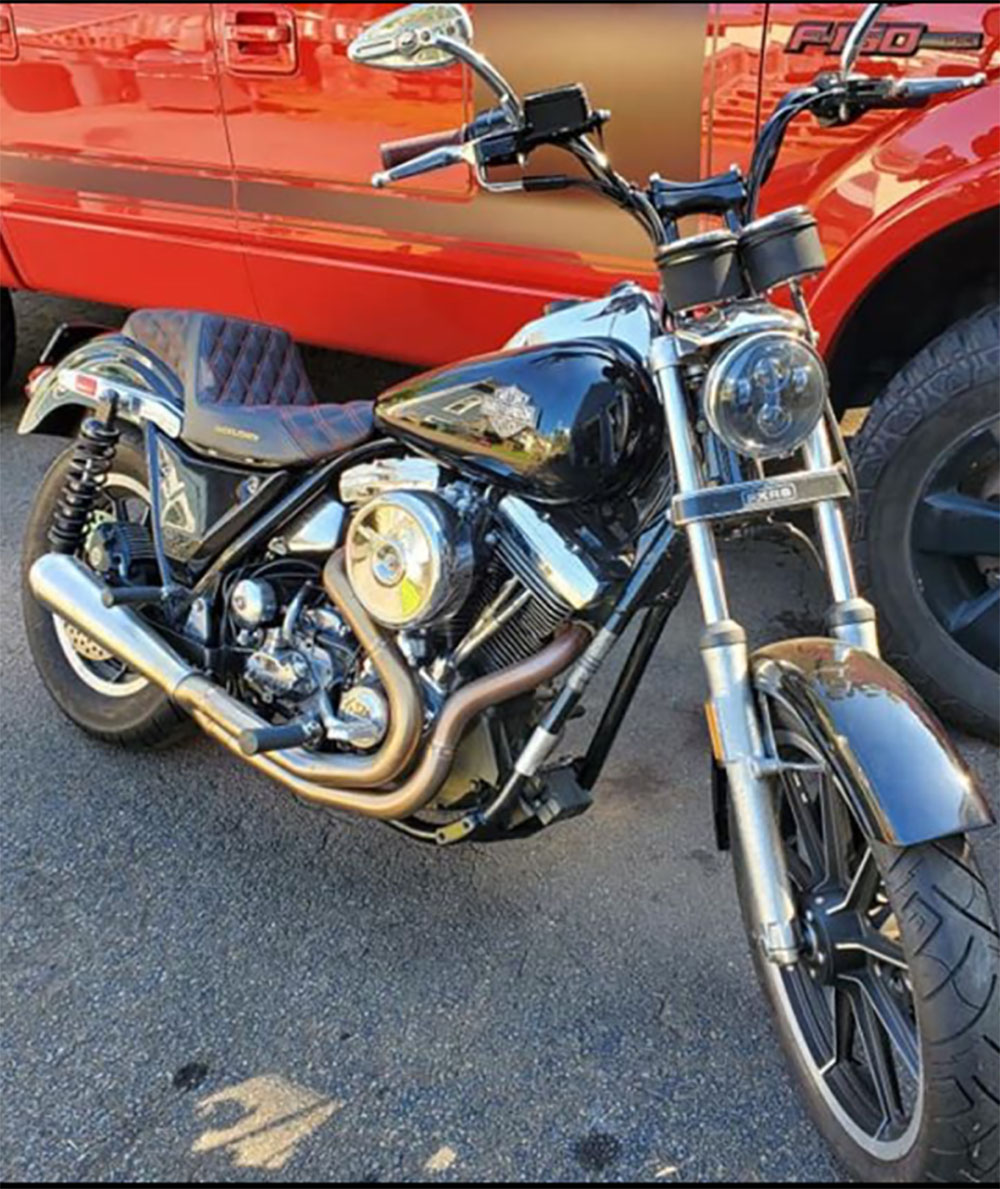 So first thing's first, tear it apart. Just about everything was torn apart by the end of the project except for the motor. Tins, side covers and a H-D Quarter fairing were sent off to get some gold pinstripping. Stock wheels were sent out to our local powder-coater for some gold metal flake. Rich aka Ryzart, located in the NJ area did the pinstripping and Bonehead Performance from Bucks County Pa did the powdercoat, they both did a great job and really helped give this bike some character.
We began reassembling the front end first; Legend Suspension recently came out with a high performance front suspension so we paired them with Pro One's black triple trees for a clean performance oriented setup. We decided to cut off the stock steering lock in order to run the Pro One triple trees and internal fork stop.
Then we mounted a set of 9.5" Hardcase risers with Forbidden Motorcycle Moto Style Gold bars to get the front end setup for the hand controls and brake/clutch lines.
Next up: wheels, tires and rotors. The stock wheels came back from Bonehead, they had the perfect color gold to match the tins and other gold pieces planned for the bike. We slapped on some Shinko 777 rubbers and mounted up a set of Twin Power Rotors.
This bike was being converted to a chain drive, so the primary was opened up and the clutch disassembled. We went with a Zippers Performance Kit with gold chain and mounted the rear tire and sprocket.
When the clutch basket was opened up we found out all the plates were broken. So we upgrades the basket and plates with a Barnett Scorpion Clutch Assembly and ran the clutch line to the new Beringer hand control before we closed up the primary.
The bike started with a handful of leaks. All that was addressed along with some new gaskets and buttoned back up and swapped the carb setup for a S&S Carb and added the proper jets.
Once the primary was complete, we mounted the rear caliper and radial brake mount from Gigacycle and rebuilt some Tokico calipers with some new pads for the front and bolted them on with SK Machine mounts. Then we ran all the necessary brake lines, cables and spent a full day rewiring the bike from the headlight to the tail light.
The rear fender was then mounted and a set of gold 13" Legend Revo A shocks were installed. Simple and clean was the goal for this bike, so it's not equipped with any front/rear turn signals or mirrors. The ignition was also upgraded to an S&S Hi-4N to give better performance and ease of adjust ability when tuning.

We also swapped out the plain stock foot controls. We wanted some gold throughout the bike, so we went with a set of Thrashin P-54 foot pegs and a set of P-54 slim in the rear. To match the performance style of the bike, we installed Flo Motorsports Brake and shift lever.
Next we were ready for the tank and gas lines to be ran. When we were ready to test and tune, we found one of the pushrods was bent so they needed to be replaced.
After that the S&S air cleaner was mounted along with the Brass Balls cover, the stock dash cover and Custom Saddlemen Step-Up seat.
After a few passes on the Dyno, this thing was ready to rip. Final number came out at 81hp and 80 tq - not bad for a 1985. It rides super smooth with the upgraded suspension and will pick the front end up if you have the nuts to twist open the throttle.
A huge thank you to our friend Mike for letting us be a part of such a cool project. We had a lot of fun watching this bike come together.
Recent Posts
ODI brings more moto style inspiration to the V-Twin world. The company teamed up with Carey Hart @h …

Can an air filter alone give you any performance improvement out of a stock motor? That's what we …

Just released from Simpson for 2020 - the new Speed Bandit Motorcycle Helmet. It keeps true to Simps …