The performance Harley scene has become popular with a lot of riders, and for good reason. Riders want to go fast and have a bike that can handle every corner they take. So to go fast, you either have to add power or remove weight - or as we would recommend do both!

Since this blog is about Carbon Fiber, we are going to highlight shedding some weight off of your ride! But seriously, who doesn't love the look of Carbon Fiber. It's the most recognized symbol of lightweight strength while being built for speed and performance. So what is available for Harley's these days? A lot actually. Check out the BEST brands currently offering high quality Carbon Fiber products. Each brand currently offers something a little different but they are all high quality Carbon Fiber pieces.

One of the first big names to start making Carbon Fiber pieces available is Hofmann Designs. We have installed several Hofmann Carbon Fiber pieces on customers bikes and have heard nothing but good feedback from customers who've installed their parts. Biggest down fall currently is the lead time on almost all Hofmann pieces. We do our best to keep their stuff in-stock but still have about an 8-10 week lead times for most items. This could change in the future, but their stuff has been in high demand. Check out their currently selection below.
FENDERS
Their Front fenders are available for 2014-2022 Harley Touring models (including the new ST models) in either the Shorty or Mid-Length style. Both include hardware for either a 19" or 21" wheel.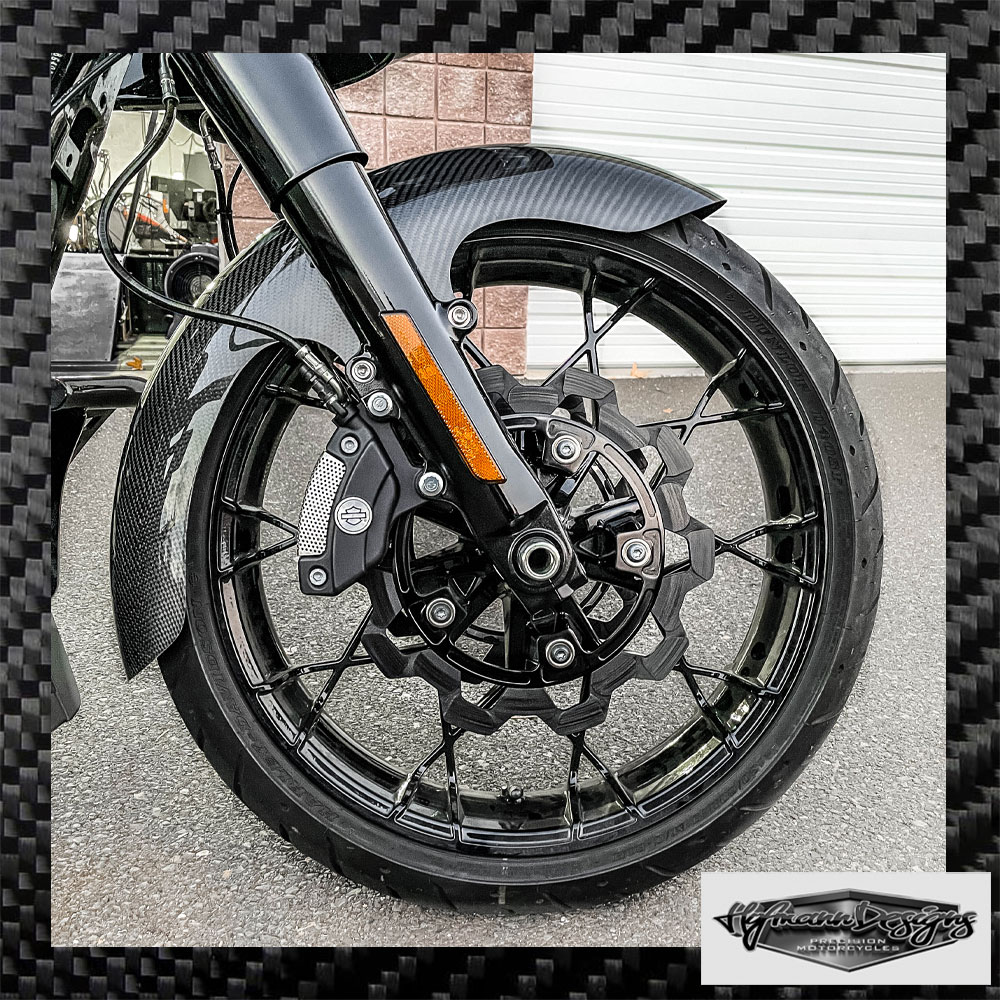 Currently Hofmann only offers one Rear Fender option, designed to fit 2009-2022 Touring models. This fender comes in at a whooping 2.3lbs compared to the almost 10lb stock fender. When installing you will need to drill the rear seat mounting hole which is typical for all Rear Carbon fenders currently.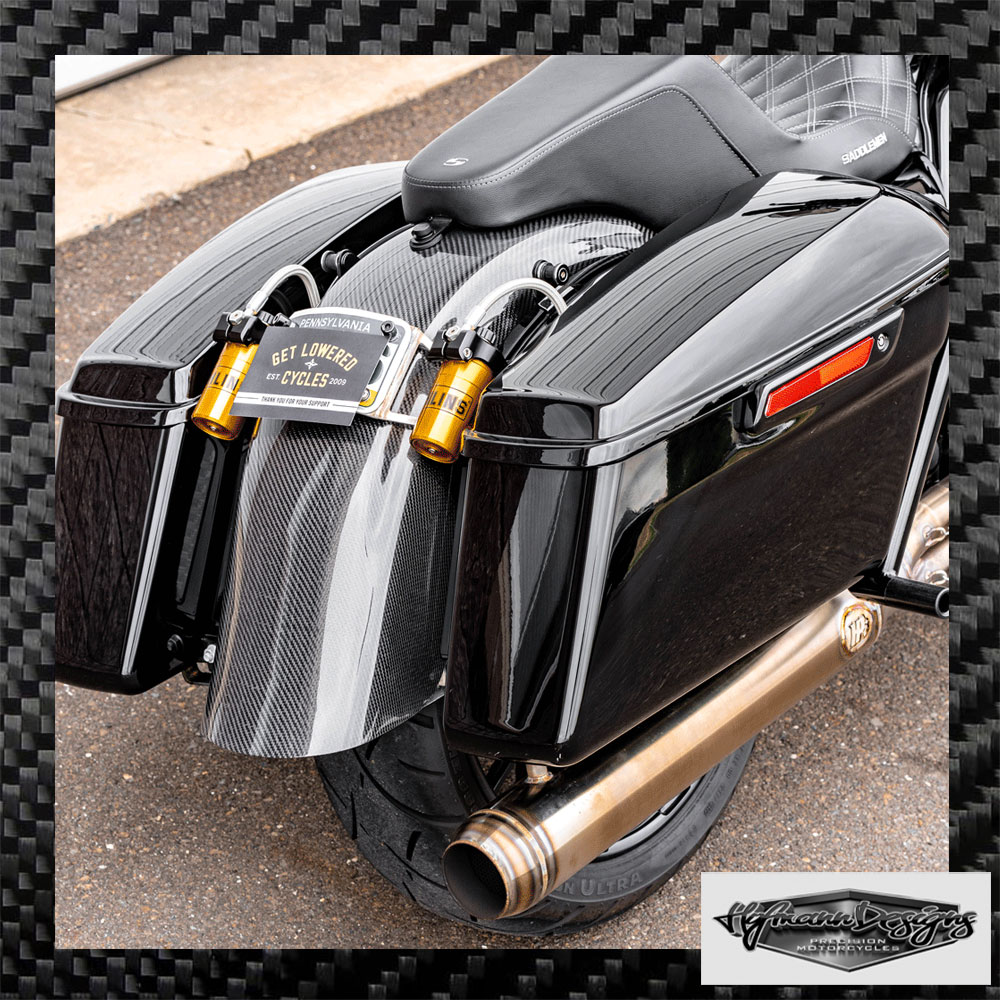 Hofmann offers 2 style Side Panels - OEM and FXR. Both will fit 2009-2022 Harley Touring models. The FXR style definitely has a more aggressive look with the sharp lines and dimensional details.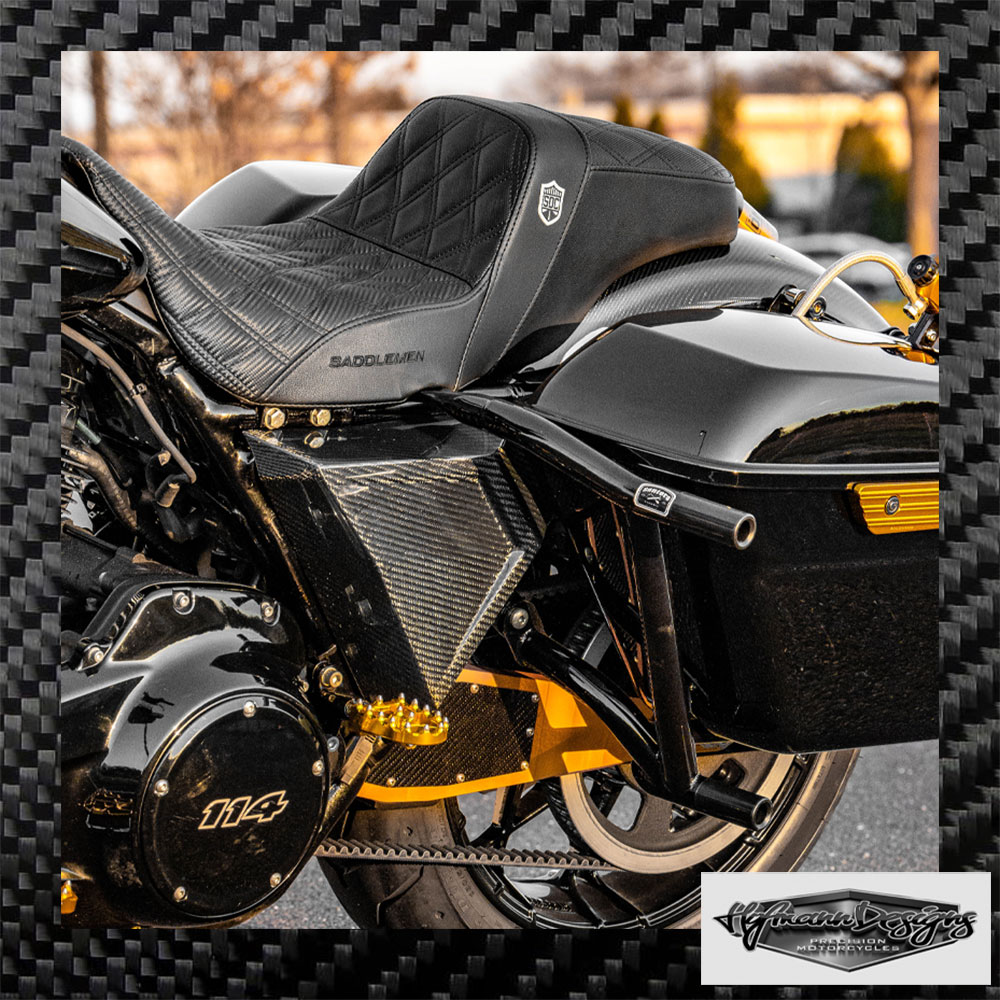 If you're looking to take your Carbon Fiber game to the next level, then Hofmann's Carbon Fiber Saddlebags and Lids, might be for you. These pieces come with a hefty price tag, but are well worth it if you're building a Performance Bagger. They are sold separately if you are looking to only add the lids to your stock bags or only run the bags and keep your stock lids. You will need to reuse your stock hardware or pick up a new kit, it is not included with the Carbon pieces.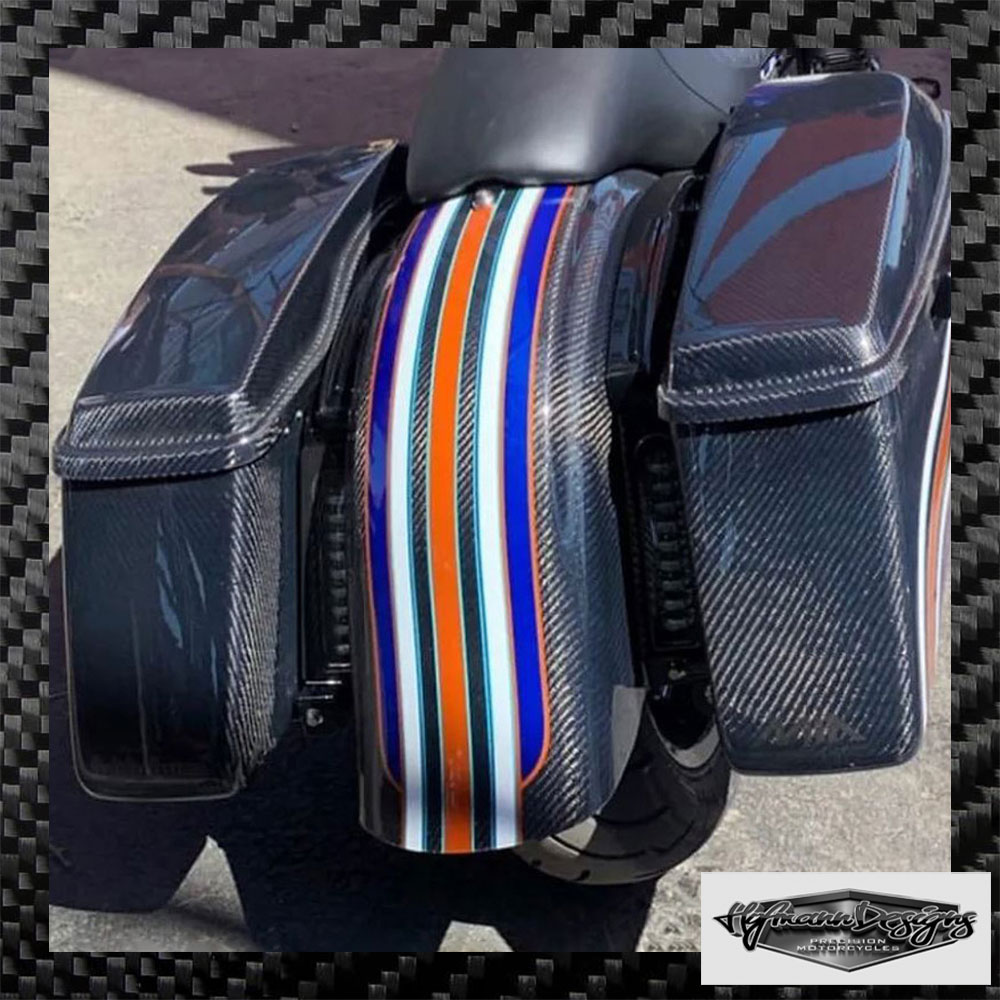 The Hofmann Dash Panels have clean lines and are available for 2008-2022 Touring models. Depending on your gas tank setup, you will need either the Hole or No Hole style. Both mount using 2 screws on the under side of the panel and include the rubber seal gasket.
The Triple Tree cover is a nice addition if you want to swap out the stock cover. It's a nice touch of detail for any Performance Bagger.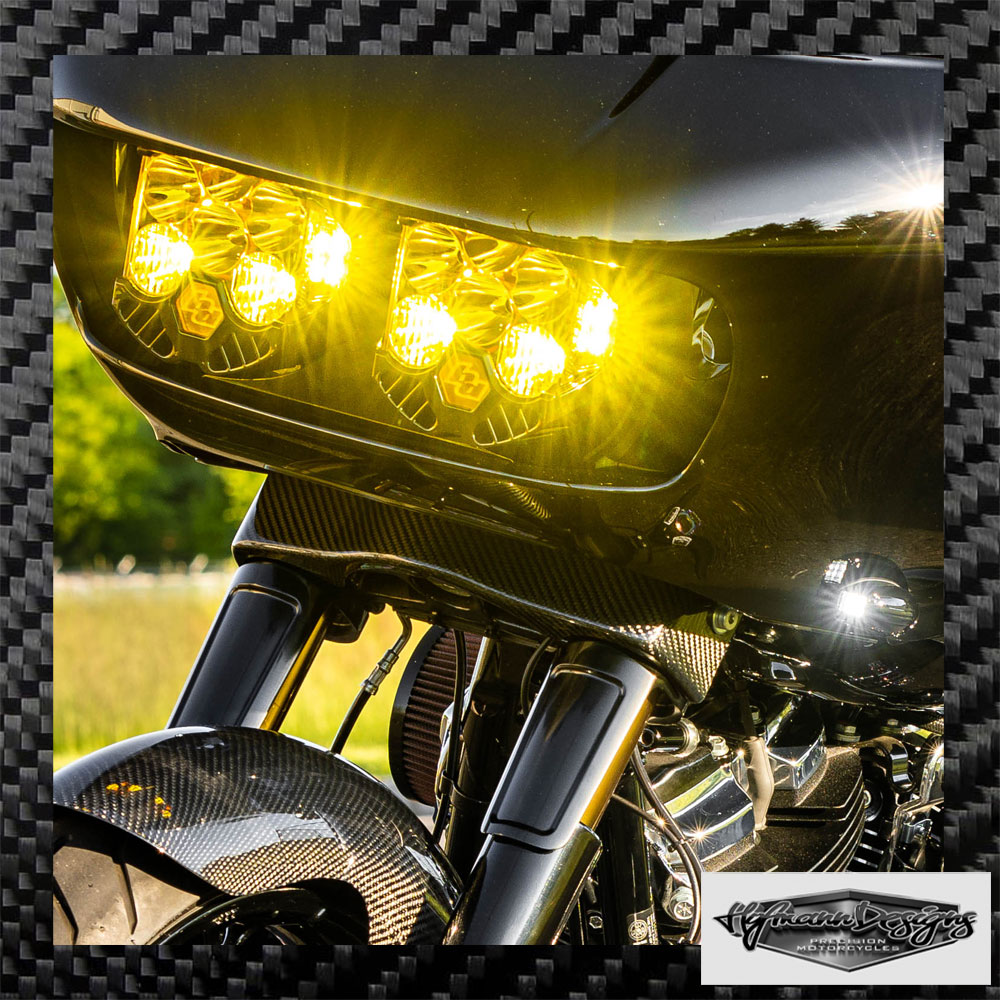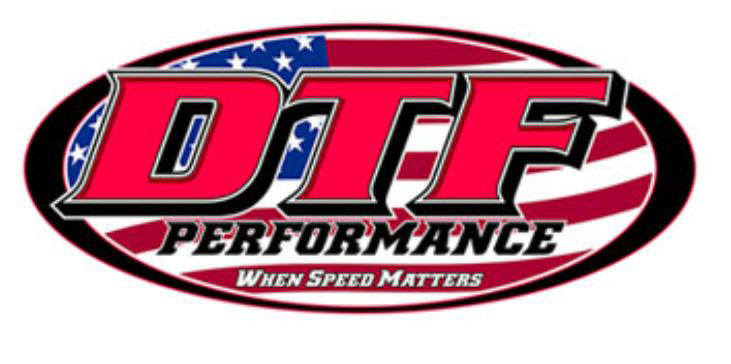 DTF Performance is another highly recognized name in the race and performance world. They offer their own style of Carbon Fiber pieces with extremely high quality and attention to detail in all their parts. These can also have a 3-4 week lead time, but typically we have them in-stock to ship same or next day.
DTF offers 3 styles of front fenders, Mid Length, Shorty and Sport. On our website, each fender includes the Hardware you need to run the fender on 2009-2022 Harley Bagger model. All three fender options require drilling in order to mount.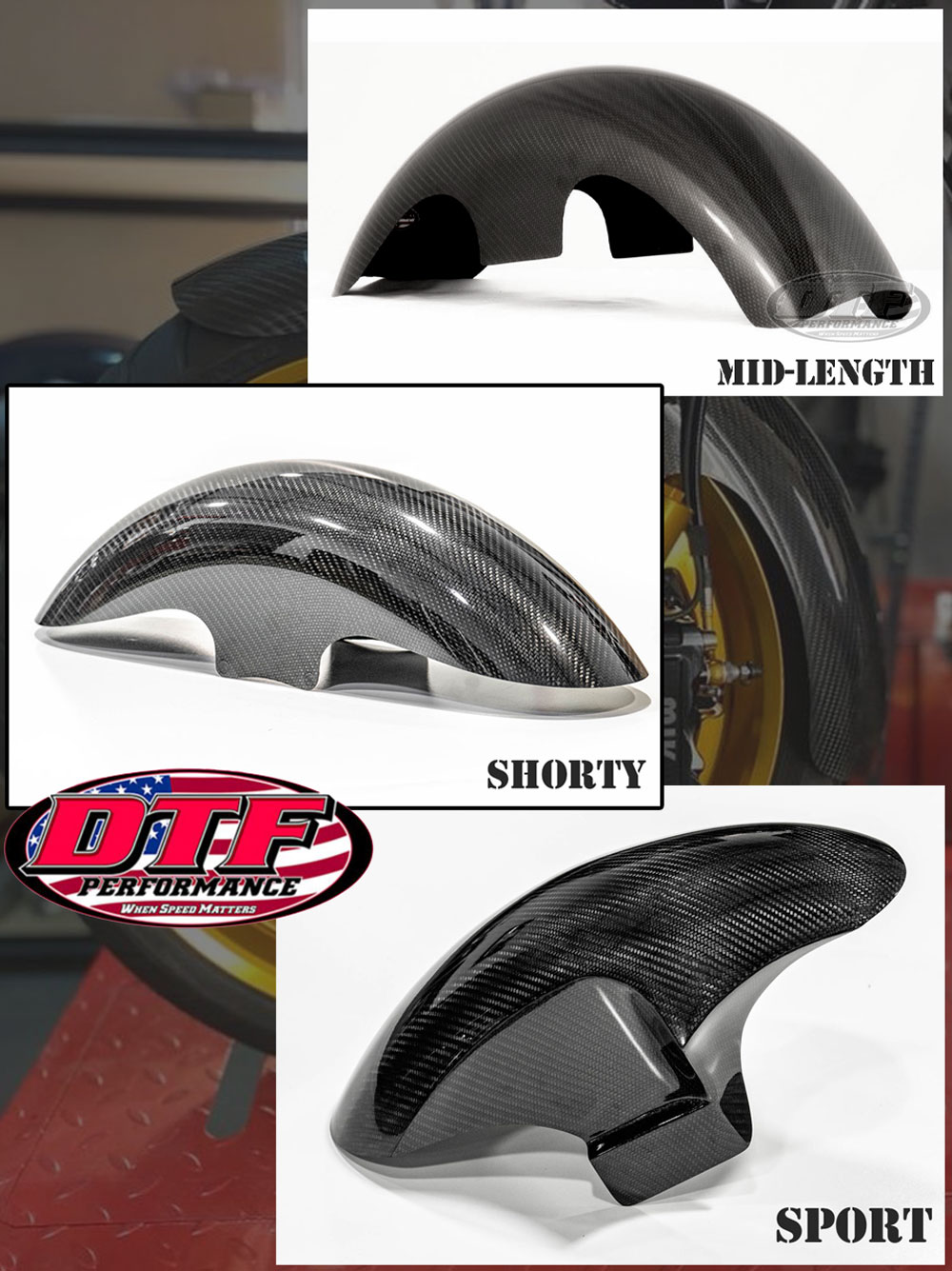 DTF also has a Rear Fender option that features clean lines with a High Gloss finish. We also include the hardware you need to mount for the fender. Drilling will be required to mount.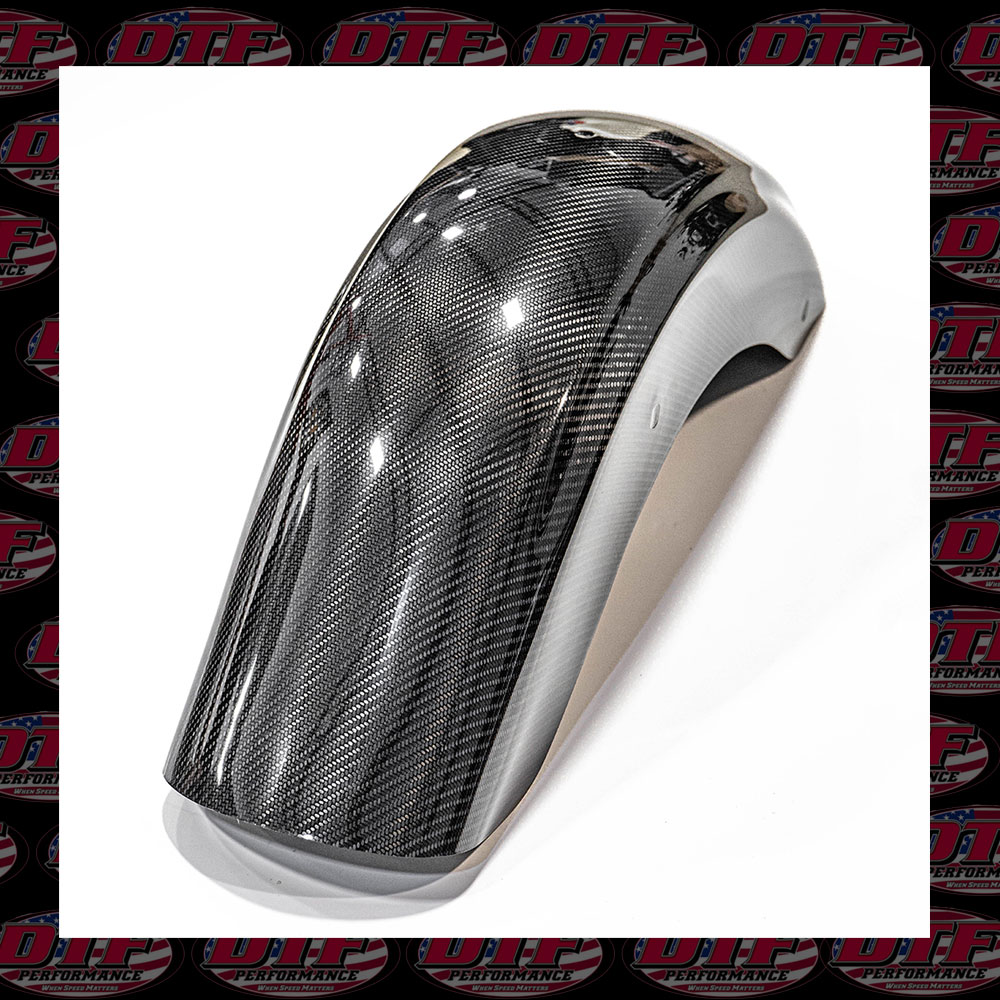 DTF offers 2 style Dash Panels, either Hole or No Hole depending on your gas Tank setup on 2008-2022 Harley Baggers models. These have a slightly more aggressive style and do not include the rubber gasket seal on the bottom side of the dash. You will need to reuse your original or pick up a new one. These also use 2 screw holes on the bottom side of the dash to mount to the tank.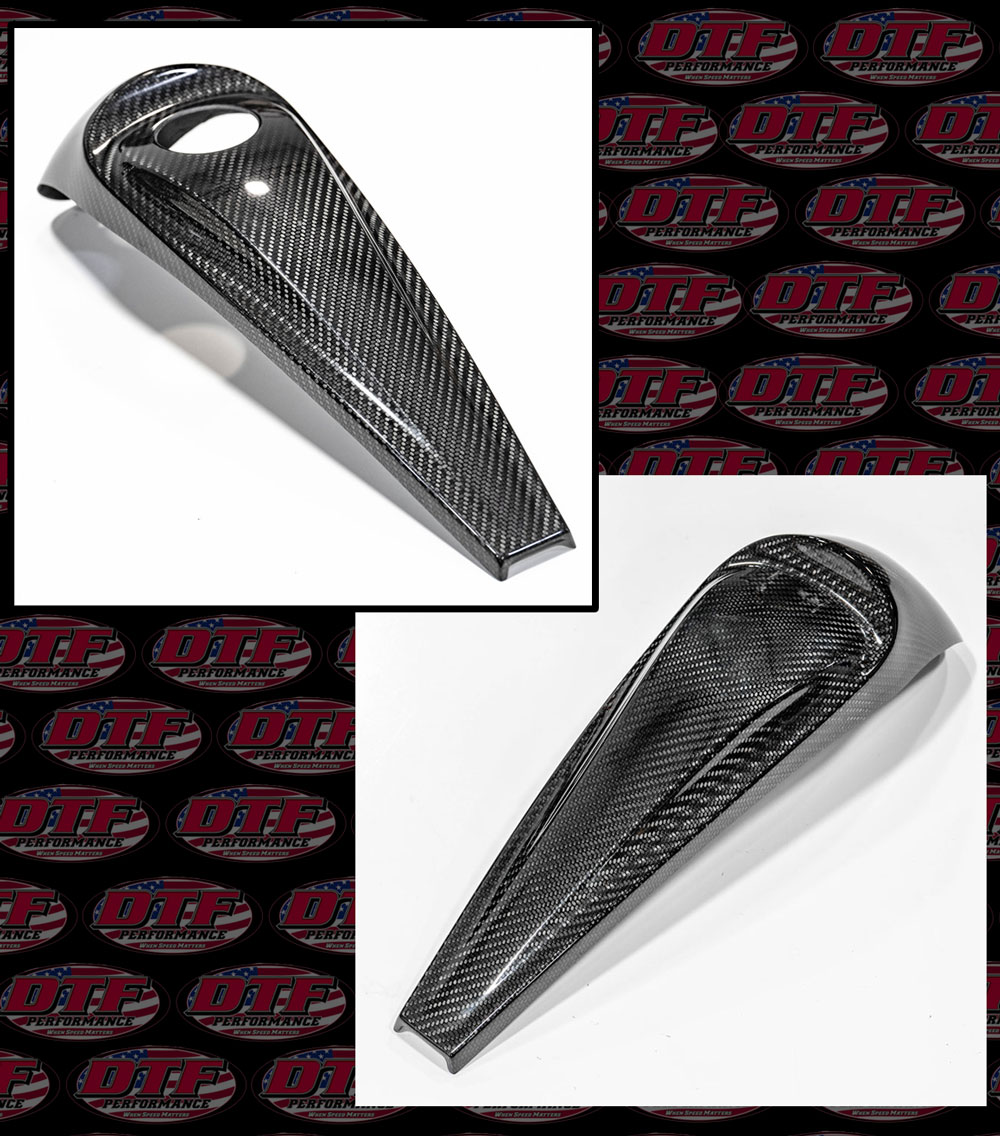 DTF offers OEM style Dash Panels with a Gloss finish for 2009-2022 Harley Bagger models.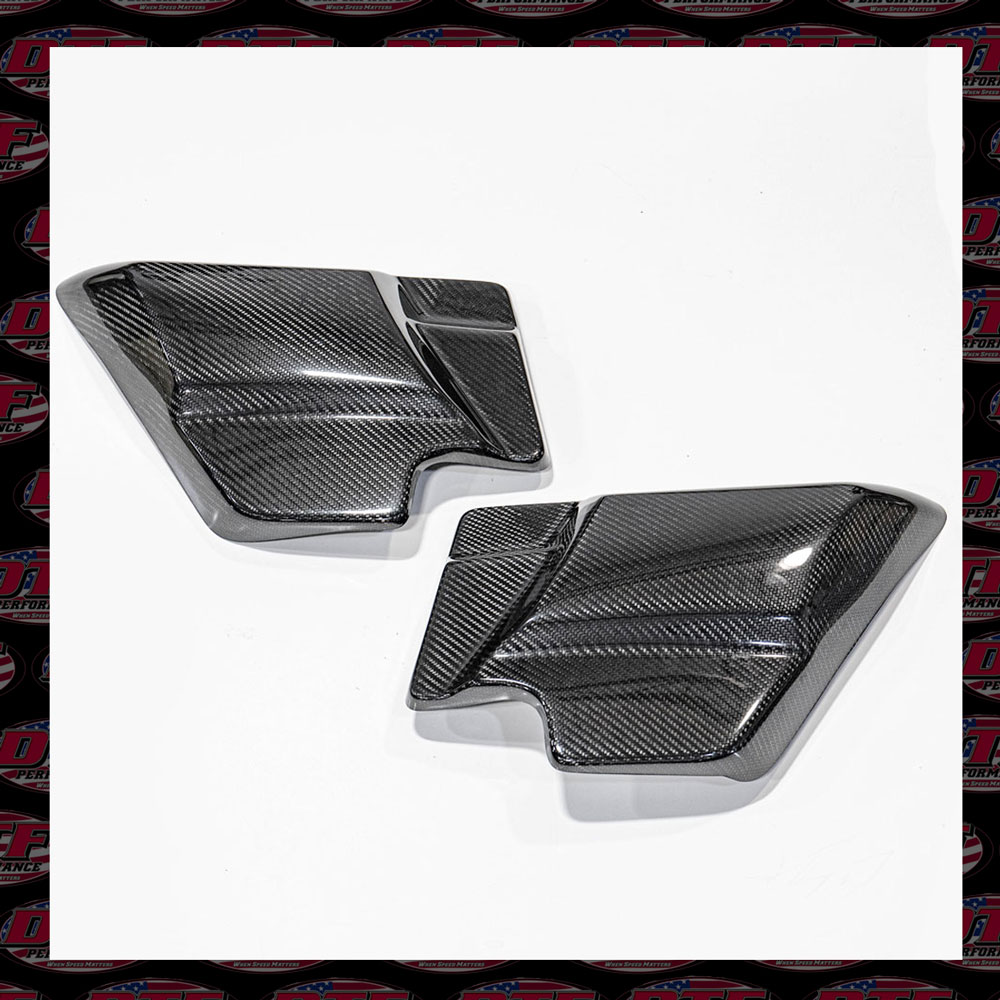 Based out of California, Slyfox has been making waves in the Performance Bagger scene with their debut in King of the Baggers Races where Power, Strength and Speed are pushed to the limits. Slyfox Carbon Fiber fenders feature a unique Chevron style that gives their pieces a different look. They also offer a Gloss or Matte finish for most of their items. Slyfox Carbon Fiber pieces are typically in-stock and can ship same or next day.
Slyfox currently only offers one length front fender and one Rear fender option. Both come in either a Gloss or Matte finish with a unique Chevron style for 2014-2022 Harley Touring models.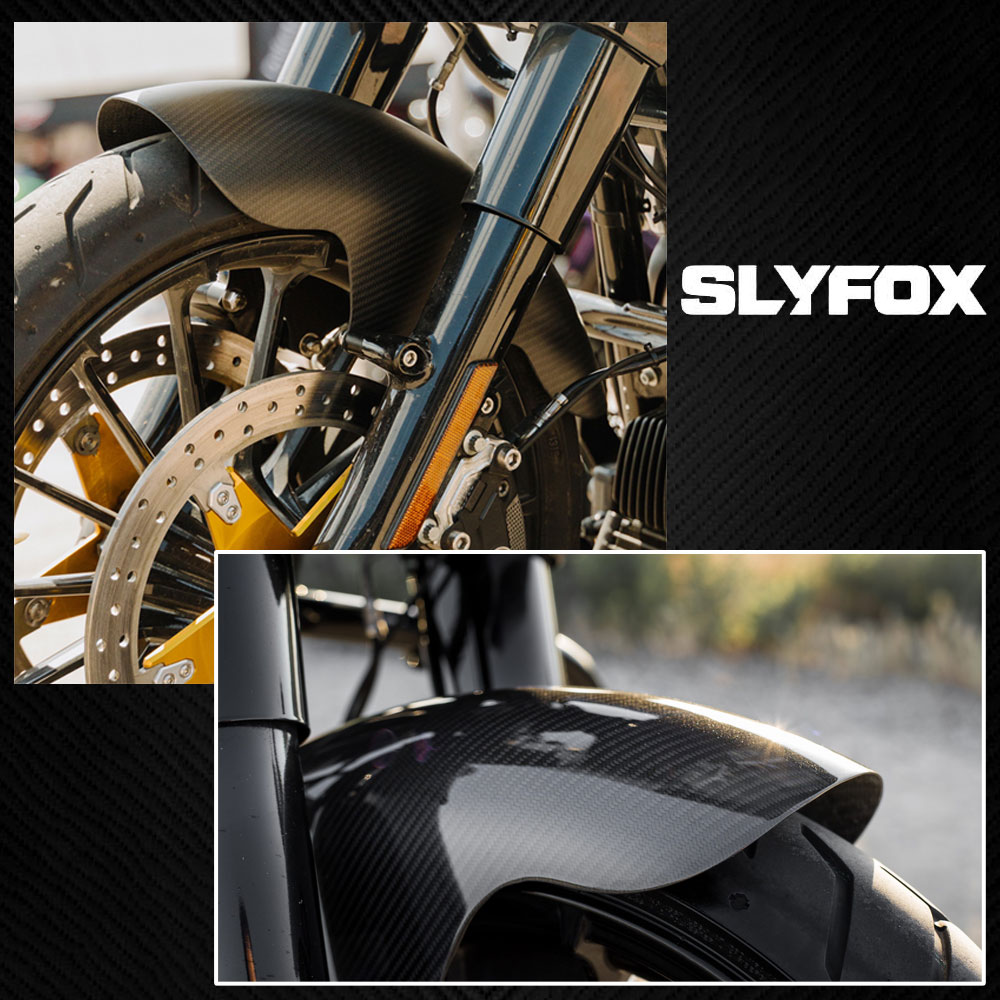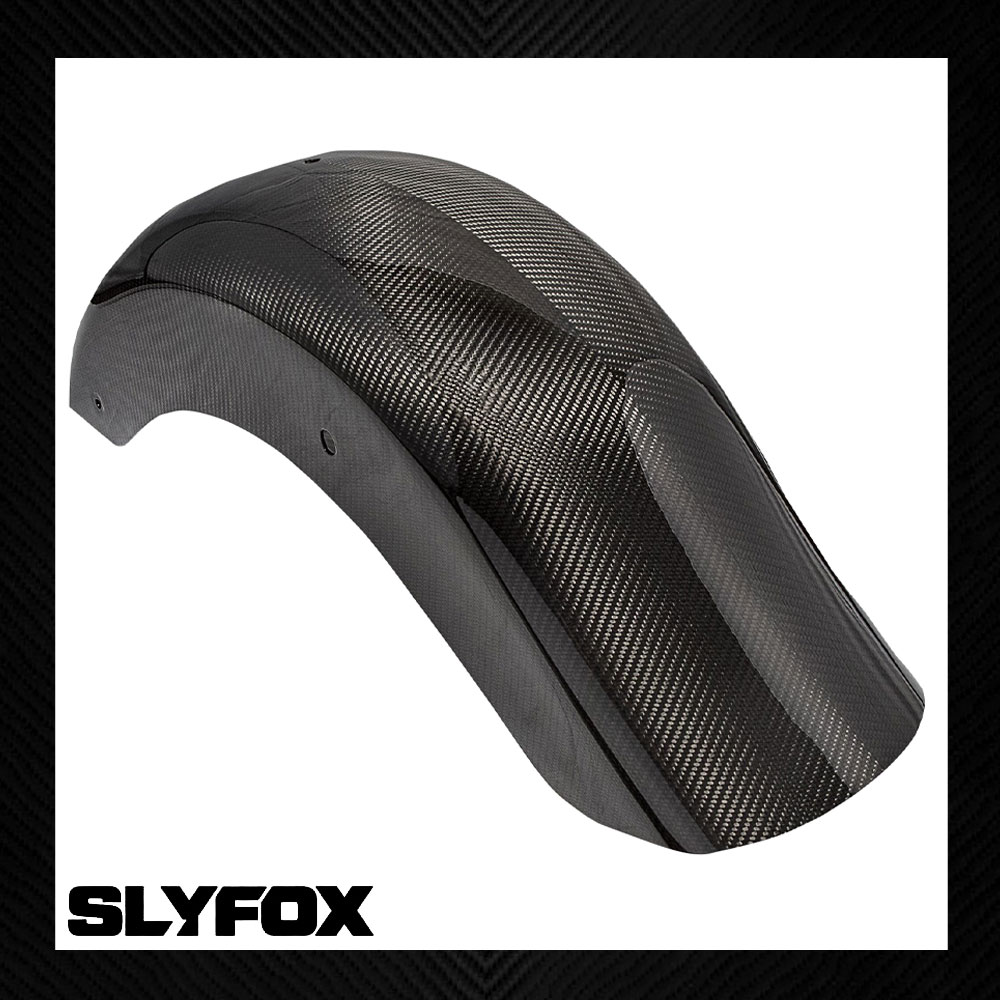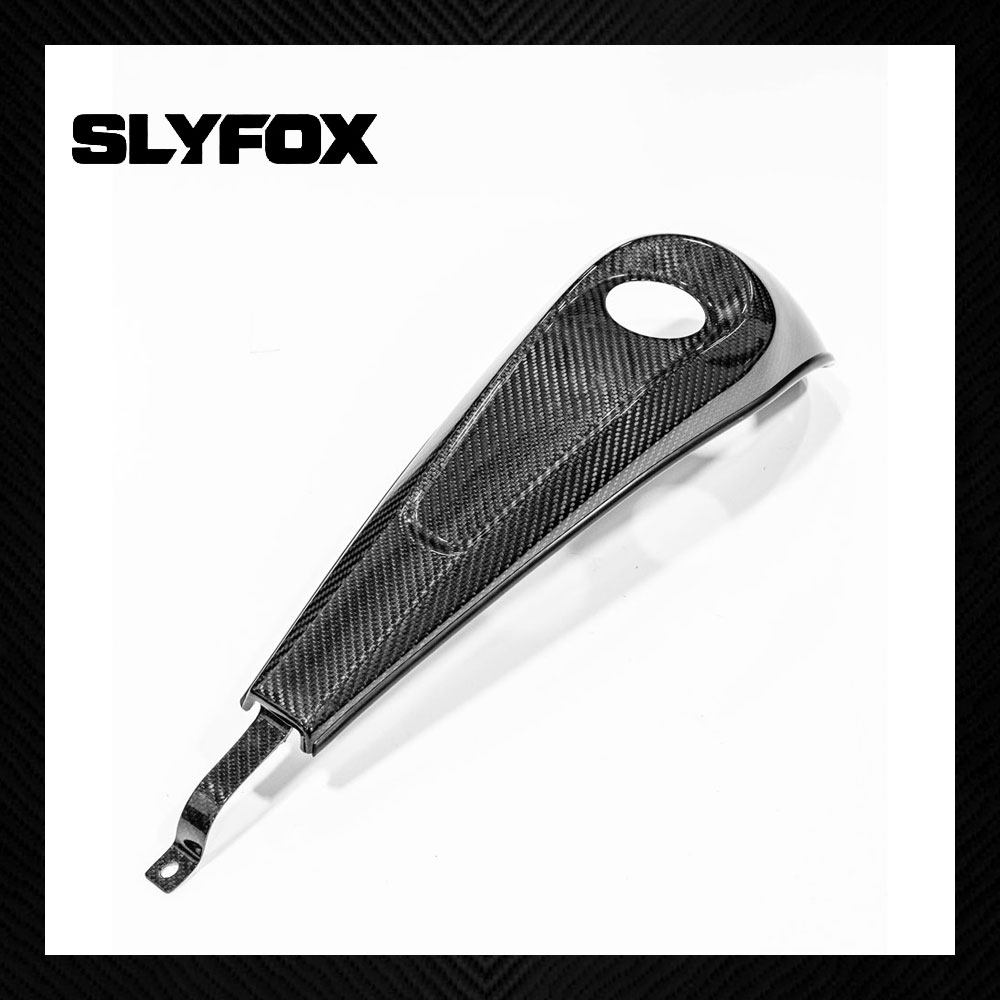 Clean lines with all the right details. Slyfox offers their Dash Panel with a tab style mount which adds strength to the mount and the rubber gasket seal is included. Again Gloss or Matte finish available (Matte finish ETA end of November 2022). The Hole style is currently available and the No Hole option should also be out end of November 2022.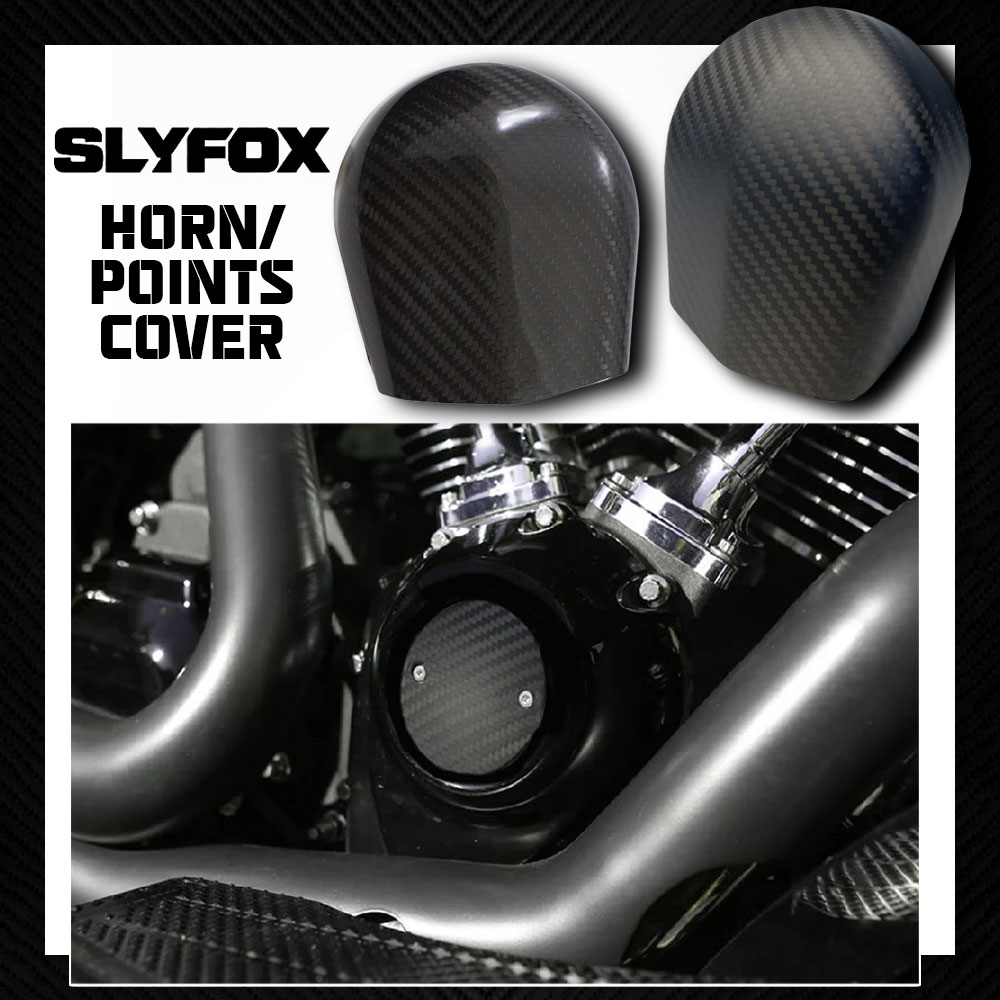 We recently released the Slyfox Carbon Horn Cover and M8 Points Covers, they have been popular with a lot of riders.These are also offered in the Gloss or Matte finish. The Horn Cover works on Harley models with the Cowbell style horn and the Points Covers will fit the M8 Harley Models.
As time goes on, these brands will most likely add to the selection. If you have any questions about any of these items, please feel free to reach out cs@getlowered.com or DM us on instagram. We'd be happy to help out!
Recent Posts
We are back at testing out exhaust pipes and cams on our shop 2021 Harley Low Rider S. …

Besides actually owning your Harley, the next best part is finding people in your community or ac …

The performance Harley scene has become popular with a lot of riders, and for good reason. Riders …